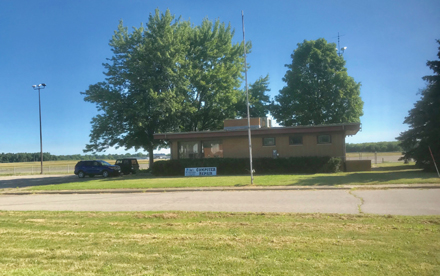 We are located approximately 1/8 of a mile west of M59 on Grand River.
In the former Livingston County Airport Building
(right across from Ditch Witch)
517-579-0975
Windows XP, Windows Vista and now Windows 7 are no longer supported by Microsoft! If you are running an older version of Windows, it's time to upgrade your PC!! Please give us a call and we can help you migrate to a Windows 10 or Windows 11 system as painlessly as possible. Do not wait....the longer you wait, the larger the chance you will become infected!
Did you know?
The biggest problem these days with PC's is the fact that they get infected with Spyware, Malware or Ransomware, which will bog your system down and in some cases may even hold it hostage or encrypt your files, preventing you from doing anything! The more you try to clean it or fix things, the more it gets infected and the worse things get.

Don't get fooled!
When you are downloading software or surfing the web, be aware that everyone is out to get you! If you choose to download something, if you are not careful, the bad guys will trick you into clicking on the wrong thing, and with one click you can disable your antivirus software and open the door for malicious software to be installed on your PC. Even if you get a pop-up window and think you are doing the right thing by clicking on the X in the upper right corner to close the window...they can engineer things so that when you click on the X you are really saying yes....and malicious software is then installed onto your PC.
Never put your credit card in to remove spyware and viruses. If you are infected and are being notified that the FBI wants you to purchase a moneypack card and input the numbers to clean your PC...that is a scam! You would be throwing $200 away and still have an infected PC. There is an even nastier piece of ransomeware going around that will encrypt all of your files (make them unreadable to you). The infection points you to a web site to enter credit card info to get the encryption code to get your files back, but I would not advise inputting credit card info and handing it over to the bad guys. At that point....your files are pretty much toast. The only way to get them back would be to interact with the criminals who infected your PC in the first place.
Do you prefer in home service?
In home service is available but not recommended. The amount of diagnostics, updates and spyware scans that need to be run on your computer can take up to 12 hours or more to complete. To get the job done right we prefer that you to bring your PC into our shop. We will start working on it immediately and can usually have it done within a day or so. We stand by our work and want your computer up and running at maximum speed and spyware free. This just can't be done in a 1-2 hour in home service call.
Looking for a new PC?
With large chain stores right down the road from us its not worth it for us to stock any inventory. What we can offer is the guidance below, as well as new PC setup and data transfer services once you purchase your new PC. If you are in the market for something new and have no clue what you are looking for, use the guidelines below and you won't be sorry!
The three main things to look for are:
Processor (the brain of your PC) INTEL Processors only. NO AMD! AMD runs hotter and slower. With Intel, there are several types...the most common and powerful are the "i" series". There is the i3, the i5 and i7. The i3 is good for surfing the internet and basic use, the i5 is better and good for photo and some video work, and the i7 is the best and great for high end work like drafting or gaming. That all being said...the prices will reflect this. You can get a decent i3 machine for around $350 or so...a decent i5 system will be around $500-$700 and a good i7 will be from around $700 up.
Memory- nothing less than 4gb, if you can afford more or there is a PC on sale with more memory for a little more money...it's worth the extra cost. But nothing less than 4gb.
Hard Disk- If you are planning on storing a lot of photos, music and videos you will want a 1TB hard drive. If you are just a casual user a 500GB drive will be sufficient. There is also the new option of a SSD drive. Most newer high end laptops and tablets will come with an SSD drive. They are significantly faster than a standard hard drive because they have no moving parts. But they are also significantly more expensive than a standard hard drive as well. And in most cases, the offered size is usually only 128gb or 256gb as opposed to the 500gb and 1tb sizes of standard drives.
If you are shopping for a laptop...the screen size will affect your pricing. 15" systems will be cheaper than 17" inch systems.
Also, if you are shopping for a laptop, we do not recommend HP systems or Toshiba systems. We do recommend Dell, Acer, Asus and Lenovo.
If you still have questions after reading this...feel free to give us a call and we will be glad to assist!
517-579-0975
HOURS:
MON-FRI 9am-3pm
Note: If you are coming towards the end of the day...CALL AHEAD! If its slow, I like to leave early when I can.
FREE DIAGNOSTICS


Dan is a proud Veteran of the US Army!


Our company is based on several principles:
* Providing Quality service in a friendly manner
* Fast and Efficient service
* Honest & Fair Pricing

Customer Testimonials-
Please review our web site for more information about our services.
You are Visitor #