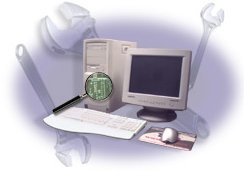 Current Rates
(Prices are for labor only)
Pick-up & Delivery $30
Includes both trips within a 30 mile radius

Onsite Repair Minimum $75

Commercial Rates are $105 per hour (1 hour min)

System Tune Up $100
Includes-Diagnose and repair operating system
Install Windows service packs and Application updates
Install Antivirus if needed, Remove Spyware &Temp files
Clean up disk and Defrag System

Spyware/Virus Removal $50-$100
Depending on how bad the infections are

Data Backup/Transfer $50

Install Operating System $75
Installation of operating system and all drivers.
*Software not included

Memory Install $25
*memory not included

Hardware Install $50
Install and configure of one internal or external component

Tutoring $30 1/2 hour
We can remotely assist you

Hard Drive Install $125
Installation of hard drive, operating system & drivers.
(Includes Backup and transfer of data)
*Hard drive not included *Original system disks required

Wireless Networking $100
Setup and configure wireless router and configure one computer
Additional devices $25 each *Router not included

Website Design, Maintenance, & Hosting
Ask about pricing
Priced to fit any budget

Remote Support $30 1/2 hour
Fastest and easiest way to get you up and running quickly.


FREE DIAGNOSTICS

Dan is a proud Veteran of the US Army!


We accept Credit Cards, Checks & Cash



Stop in and see Ziggy!